Facing unnecessary Texts and Requests from the social platforms is common annoying issues in these days.
People Don't want to expose their online status to other persons so they can stay in online without facing any kind of problem.
But not all of the app that have options to  hide your presence , So you need external app to be installed in your android phone.
Luckily we have that working app in our play store, So you don't need to worry about search and download that app.
That App Exactly called as ' Unseen ' , Yes exactly what you need to do in your phone.
You can be Unseen in social media platforms without having any trouble.
App Features:
This app is user friendly and having simple user interface.
If you are using WhatsApp then you can do lot of things with this app.
1.You can easily hide your last seen.
2.You can have the freedom to choose to show the blue ticks in WhatsApp.
3.You can read all messages in incognito mode so they never know that you are read their message that will let you to reply on your free time.
This is will be used around apps like WhatsApp , Viber and Fb Messenger.
You can hide your last seen in messenger.
There is another good option to choose the app and choose which contact to included in your hiding list.
Sounds like great is that correct,
There is many more options like this to be explored by you,So you need to install this app and try it on your own.
How App Works
Download the app from the link in the end of the article.
After you successfully installed the app you need give some permission to this app so that can work properly.
The important permissions are,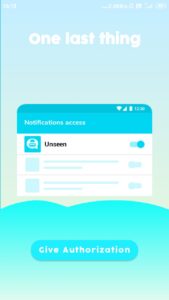 NOTIFICATION DRAWER PERMISSION
AUTO START PERMISSION
EXCLUDE FROM THE BATTERY OPTIMISE
These are important permissions that you need to be given to the app.
After you successfully opened the app so you can see the all notification in the interface that they are given in the app.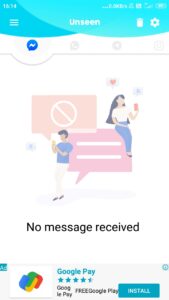 Every notification will be saved their so you can be invisible.
Download From Here.
APP Version Details
This app is easier to find in the play store .
This app is having 3 Million Downloads in the play store that you can Download without any doubt.
It have the good amount of rating 4.3 it self.
Last version updated on 7 Feb 2020 and working fine till now.
This update had Some performance improvement and speed increases compared previous versions.
Some minor bugs also fixed.
Thank you for Visiting, Hope you have Got everything you needed.